Well I put off getting Civ5 for a long time - initially because my friends gave negative reports, then just because I had other games I was playing. But the recent Steam sale reminded me that I never tried it, it was dirt cheap, and I had some spare time... so I figured I'd give it a shot. This is Gold Edition, so it's with G&K as well as (I think) most of the DLC.
I consider myself a competent Civ4 player and a decent strategy player overall, but I've never played Civ5 or even seen it played prior to this game. So the first thing I did was pull down the Civilopedia and spend half an hour reading about all the new game concepts... now to play a game.
I figure I'll get useful advice from helpful folks here, learn some, fail horribly, and a good time will be had by all laughing at my hubris. Because I've made just one minor change to the default game settings...
So I drew Darius of Persia.
According to the Civilopedia, that makes my Golden Ages give my units a movement and strength boost, gives me a slightly stronger spearman, and gives me a bank which gives a nice happiness boost. None of those sound like a big change from core game mechanics, so I don't see any reason for this to predispose me to any one game plan.
Starting location: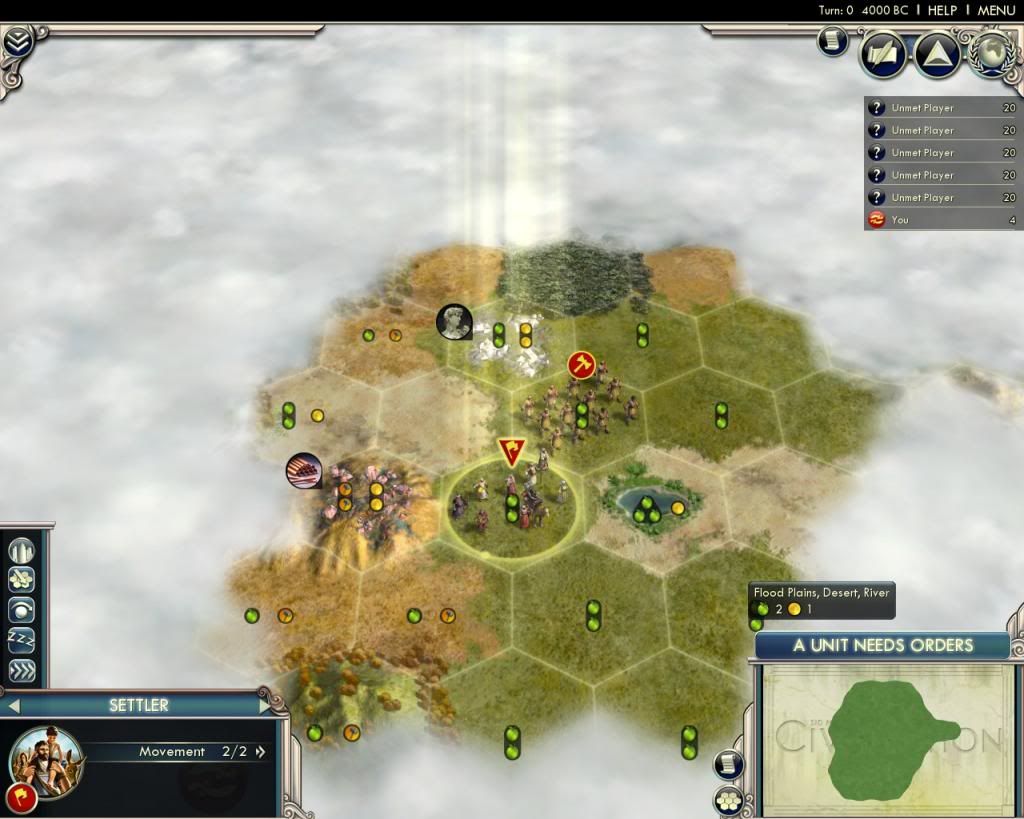 I moved my warrior 1E then 1SE and, not seeing anywhere better, settled in place. My offhand instincts about this start...
2 luxury resources, so I should have significant happiness early. The oasis and copper are my strong early tiles, so getting Mining will be a priority. I'm a touch short on food here; I'm hoping to offset that with a granary (I noticed that in Civ5 those apparently actually generate 2 food).
You couldn't go wrong with opening worker-first in Civ4 and I doubt that has changed, so I'm going with that again here. Each tech choice will take 9 turns, so Mining first is the obvious choice (that way my worker can mine the copper as soon as it pops).
I do a bit of exploring, and pop my first goody hut - which gives me a map.
I seem to be on the northwest coast, so my warrior will swing south a bit with his scouting then circle back to the two additional ruins that map spotted for me (as it turns out, I ended up getting +1 population from one of them, and Masonry from another).
When my city grows to size-2, I manually reorganize the tiles I'm working. Growing onto more 2-food tiles is pretty useless, so I need that worker out faster. Instead of working the plain grassland the governor wanted, I throw the citizen onto the copper tile for a bit of gold and a significant boost to production, shaving a few turns off that worker.
Meanwhile, I proceed on towards Pottery after finishing Mining, so I can start on a Granary after I finish the worker.
Further warrior scouting reveals that I seem to be at the end of a fairly broad peninsula, with nobody north, south, or west of me. When I finish Pottery, I start on Archery - figuring I may need some barbarian defense stronger than warriors soon. On finishing the worker, I start in on my Granary as planned.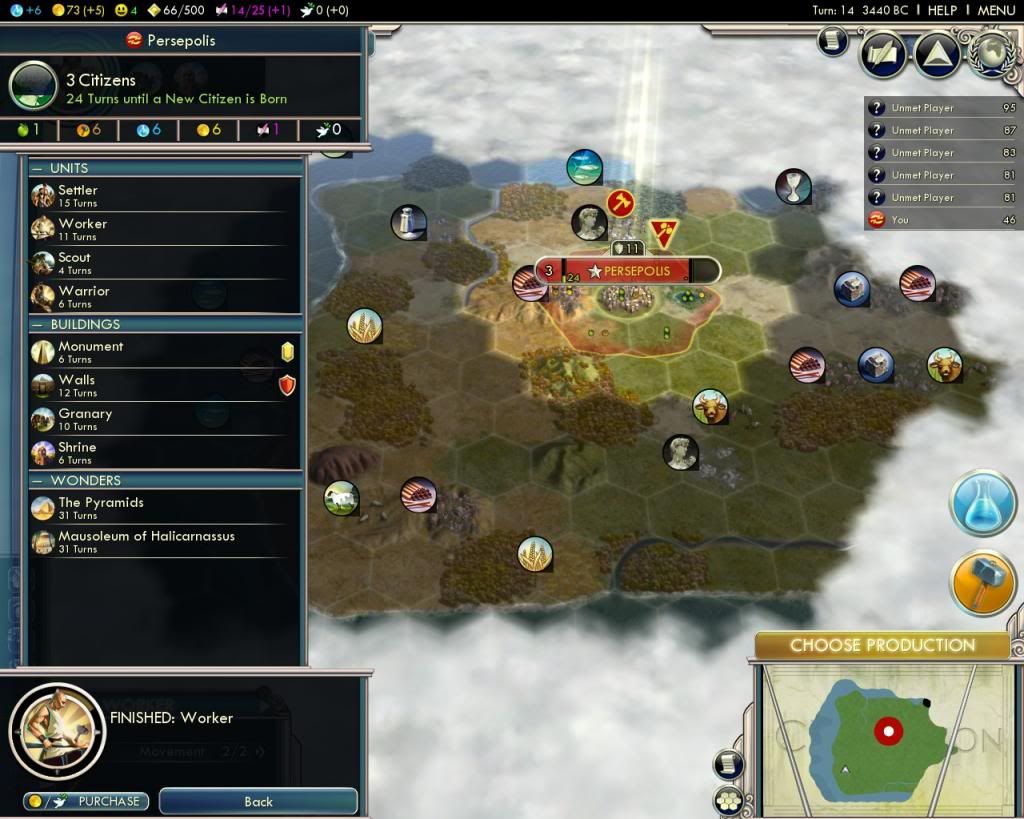 Further scouting reveals that Belgrade is northeast of me on the coast, Napoleon is straight east of me (at least 10 tiles away), and Rio de Janeiro is southeast of me on the coast. The two city states actually provide me with an opportunity for a fairly aggressive settling of two blocking cities to wall off a
large
fraction of this continent for myself if I can get them before Napoleon expands out my way... which I imagine would be useful for standing off the Deity AIs. I've run into my first barbarian encampment, and decided to let it stand and continue on my way (since it was far closer to the other two city states and Napoleon than to me, and since I couldn't kill it with 1 warrior anyways).
According to the Civilopedia, Belgrade is a militaristic city state which may give me units if I befriend it, and Rio is a Maritime city state which could give me food. I have no idea
how much
food, or how often I will get military units (and what units), so it's hard to judge whether these are worth pursuing.
Anyhow, at turn 20 I pause to reflect, having finished my early round of scouting and first couple builds. It's time to take stock of the map and come up with a plan.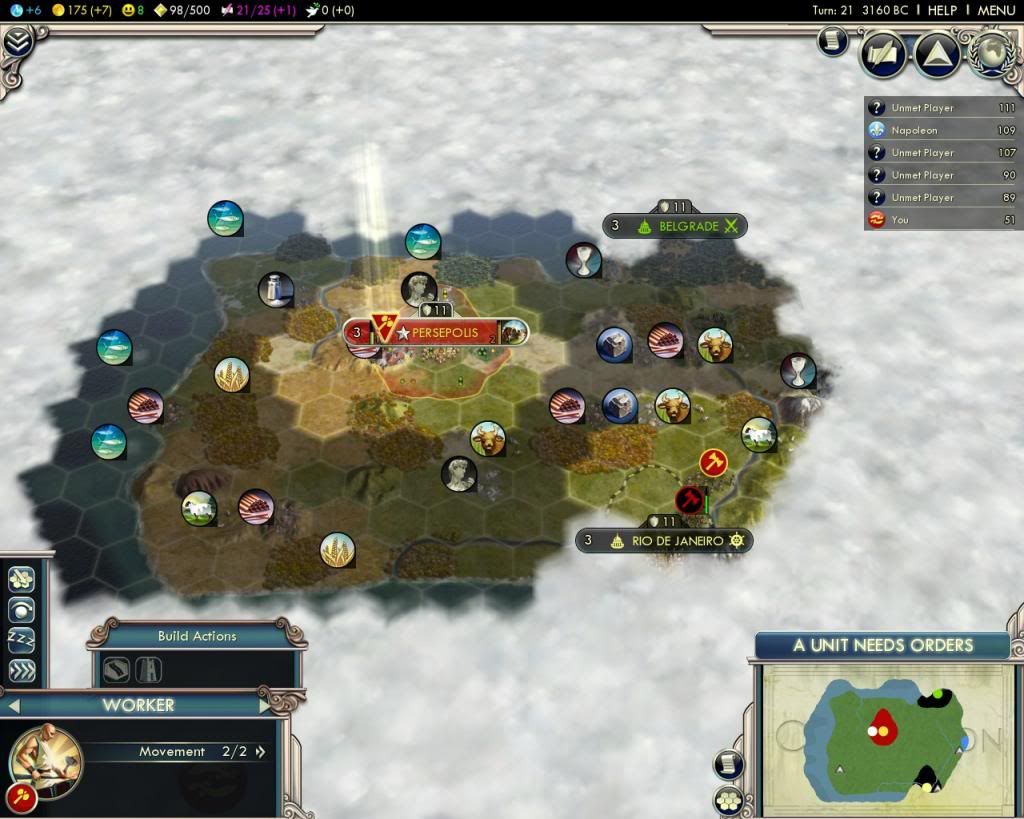 My current hopeful plan is as follows:
1. Build warrior - settler. Settle the second city
on
the stone 4E, 2S of Persepolis, or possibly the cow 1E of that. The goal here is to link my borders up with those of Rio to hopefully block Napoleon off from that area himself (if AIs will settle through other players' cultural borders in Civ5, I hope someone will warn me about that in comments).
2. Hopefully beg, borrow, trade, or steal for enough gold to buy a second settler, who will settle 1NW of the upper east copper. Paired with the other city, Belgrade, and Rio, this locks in enough land for me to expand to my heart's content in my little peninsula.
3. After getting warrior-settler, build archer - immortal at the capital. These two can work together to go about stomping barbarian encampments. I'll probably make another archer-immortal pair at the capital as backup, and may spread them out through my little peninsula to fogbust and prevent barbarian encampments from spawning back there.
In terms of research, I really have no idea what are my priorities here. Bronze Working first, so I can get Immortals, but from there I can't see any immediate needs. Calendar for plantations?
As I stated at the start, I rather expect to lose this game - I'm more interested in seeing how far I can get and trying out the game than in being confident of actually winning. But that doesn't mean I'm going to be deliberately making stupid plays; any advice would be appreciated, considered, and maybe even followed!