Joined

May 4, 2003
Messages

4,306
Location
stMinionNES2
Welcome to story Minion NES 2: Bigger, Better, Betterer. As some of you know, I've put a lot of time into making this NES comprehensive yet enjoyable, so I hope this will be a success. I'm determined to make it such, taking all the necessary precautions, such as not accidentally deleting the player stats

The map is bigger, and there are a hellova lot more nations, but the rules are a lot simpler. I reccomend you browse through the rules quickly to see what's different.
Nation
Last time I counted I have already placed 87 npc civilizations on the map, and this is without the Americas. Unless you have a really good civilization I have missed, you're not allowed to start a new one. Instead you are to pick one of the 88 civs that are already available. Really it's more then enough choices. I'd encourage you to try civs in places of the world you normally don't play. If you'd still like to make a new civ or replace an existing one, contact me.
Ruler
The ruler is like the nation; already given to you. However if you want to change it to something you'd like more, be my guest. But who wouldn't want to be Sultan Barghash?
Goverment
You can choose whatever you want as long as it's reasonable for the times. For example, no democracy or communism in 3000 B.C. Other than that, feel free to do as you wish.
Capital
You begin with the historical capital of the civilization you started as. As time goes on however, you can switch your capital, but be sure not to do it at a bad time. You can build cities as well, which will slow down enemy forces when they invade your country. If you have no cities, you're more suspect to losing half your country from a barbarian invasion, whereas if you had a city the barbarian horde would have to slow down, giving you time to push them out.
Religion
Same situation as with goverments. You have to be careful when switching it and you were given my best guess of what the civ had at 4000 B.C. Please don't change religions if you're not sure without asking me first.
Economy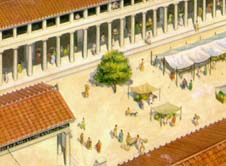 Economy is very simple. It increases by way of a numerical system. You start out with 3, and every time you say to increase it, it's raised by 1. If possible, state how you want to increase it.
Culture
Culture depends on how much you write. It has an impact on how npc nations deal with you and respect you. This is how it goes:
No orders = 0
Minnimal Orders = 1
Orders and Story = 2
Orders and Long Story =3
If it's truly deserving, I'll give you 4.
Age
You will advance in ages depending on how good your culture is and how much you research and play the game and all sorts of various intangibles. Greater ages will give you more things to do and different ways to play the game. By this I mean mine-fields in the modern age, easier wonder building in the ancient age, great exploration in the imperalist age, and of course the basic advancement in military technology.
Bronze Age - Nothing special. Everyone begins here
Iron Age -
Ancient Age -
Empire Age -
Monotheistic Age -
Medieval Age -
Gunpowder Age -
Imperialist Age -
Classical Age -
Industrial Age -
Electric Age -
Modern Age -
Information Age -
Military
Pretty simple. The 3 branches are Army, Navy, and Air Force. You only begin with the first 2. To increase them a certain amount costs 1 economy level. As we start in the bronze age, the typical soldier is the spearmen. Other types of soldiers available include archers, slingers, javelin throwers, and the like. As far as navy goes, you have galleys, with triemes coming in the iron age.
And the two things that don't appear on your stats.
Wonder
Start one any time you like. Keep them reasonable. How long they take depend on the age and overall situation you're in.
Trade
Trade costs 3 economy levels to start, and gives you an economy level every 3 turns. You cannot have more than 3 trade routes. In special cases of very profitable trade over a certain period of time, you could gain 2 economy levels for a trade route.
--------------------
Frequently Asked Questions
Q:
80 something nations? Isn't that a bit too much for the human player?
A:
Nope. In most combat instances, human players have a distinct advantage over the AI. However, if you're facing a superior npc then this won't make too much of a difference.
Q:
How do I build cities, and what do they do?
A:
Cities cost absolutely nothing. You are free to place them wherever you want at whatever time. The main advantage of cities is that they'll slow down enemy troops. For example, if an enemy rushes into a part of your country that has no cities there will be no concentration of defense to slow them down. If there is a city, the enemy will have to slow down around that city, because the area will be much better defended. On the other hand, cities have some disadvantages. Building too many of them too close to each other may cause problems with overcrowding and general unrest.
Q:
How do I build roads, and what do
they
do?
A:
Roads are like cities, absolutely free. Their primary purpose is connecting cities, but as the game goes on we shall probably see some connecting various nations as well (sorts of highways). The advantage is the much faster movement of troops in regions with roads. Also, if you're connected to distant countries via road, it'll be a lot easier to start trade. There are disadvantages though. The better movement will work for the enemy too (although you can stop this by say, bombarding the road or setting up traps and what/not). Worse yet is if an enemy disconnects a road between two important parts of your coutnry.