Archiving Civ3 Content
Moderator
Supporter
Joined

Mar 17, 2007
Messages

7,684
Location
Welcome to the Cross-Platform Editor thread!
This editor allows you to do nearly everything you can do with the Firaxis editor, and runs on Windows (XP+), Linux, and Intel Macs (sorry, no Apple Silicon support). Specialty builds support PowerPC Macs, Windows 95 through ME/2000, and Haiku.
Broadening its appeal, the editor also provides some
new options
for Civ3 modders regardless of platform. These include:
Being able to place landmark terrains of any type.
Being able to have maps of more than 362 tiles in either width or height (although not both at the same time).
Being able to bypass arbitary Firaxis limits. For example, with this editor, you can give a building more than 100 culture per turn, or give buildings negative maintenance costs.
Deepwater harbour support.
Over the years, the purpose of the editor is gradually shifting from providing the standard functionality on the Mac platform - most of which is now present - to exploring and expanding the limits of Civilization III. Utilities to speed up common tasks, such as map creation, are also being added.
Download from the latest version with the blue "Download Now" button in the upper-right.
Note
that you must have Java 8 installed to be able to run the program. See the "Java Download Links" section of this post for current instructions if you don't have Java, or have a version of Java that is too new (Java 11 or later, except as noted in that section). The editor runs on systems released as early as 1995 with its legacy builds, so it is very likely that you can run it.
The editor is also
open source
. You can view its code at
https://hg.sr.ht/~adj/civ3_cross_platform_editor
. See the source code section below for more details.
A (now dated) version of the editor on the Civ page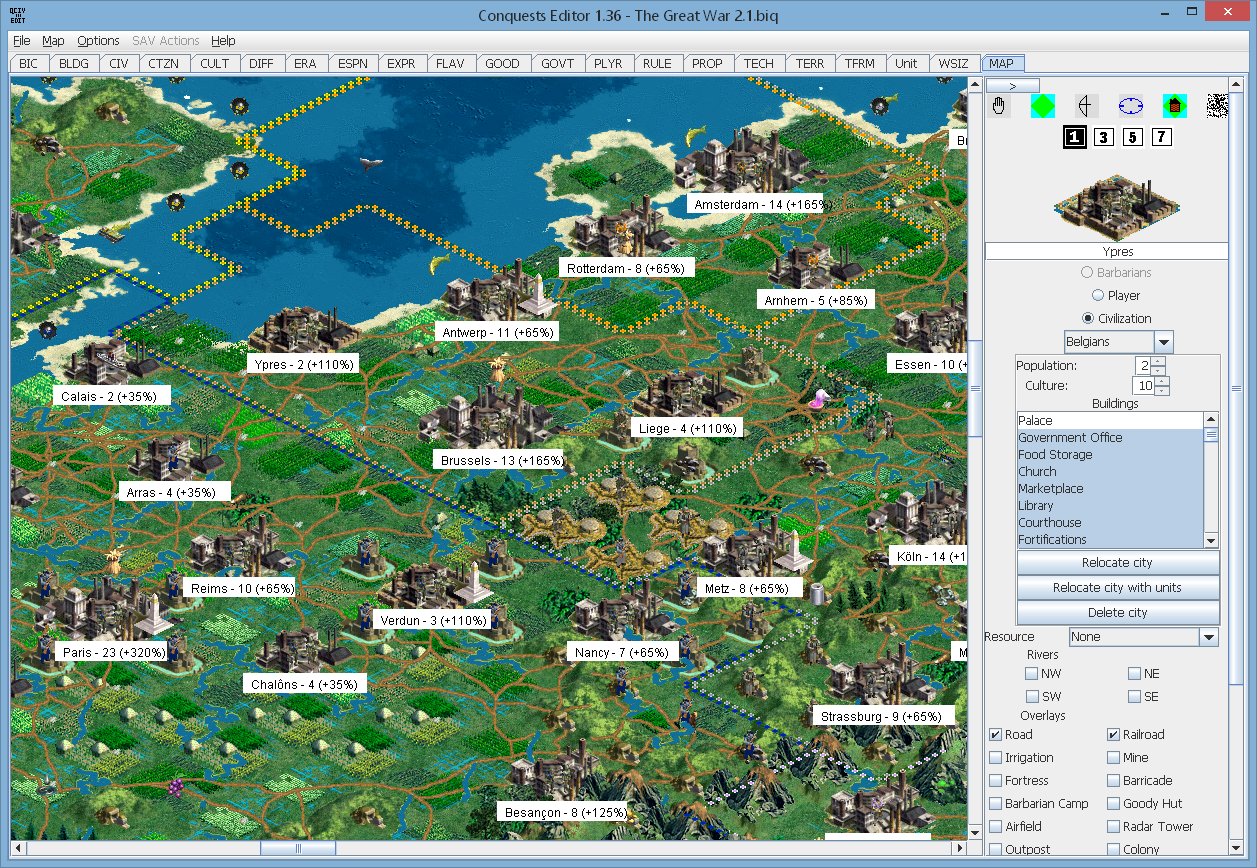 The editor on the Map page
System Requirements
To run the editor, you will need to have Java installed, which you can download from the links in the "Java Download Links" spoiler. Hardware requirements are as follow:
Spoiler Hardware requirements :
It is recommended to have Civilization III installed, although if you go to Options -> Settings and uncheck Map Enabled and restart, you can edit the rules without having Civ3 installed (with a few restrictions such as no entirely new scenarios).
The "current" build will work out-of-the-box if you have Java 8, 9, or 10 installed (but not Java 11), and are running Windows Vista or later, OS X 10.8 or later, or most recent versions of Linux. Windows XP is also supported as a primary supported OS with a separate build. For Java 11, XP, and all other operating systems, see the spoiler below.
Spoiler Java Download Links :
Troubleshooting
Source Code
The editor is open-source. The source code is divided into two sections - BIQ support, and the editor itself. The idea being that you can use the BIQ code for separate projects as well if you wish to do so.
Feel free to use this program for anything Civ related. You don't have to mention the use of the editor in your mod's credits (though you can if you want). However, if it does prove really useful in making your mod, I'd appreciate it if you could drop a line in the thread. It's nice to know how and where it's helping out, and I'm more likely to see that if you make a post in the thread.
General Notes / Summary of Helpful Info
Many of the restrictions of the editor have been removed over the years. The editor should be able to read
all BIC/BIX/BIQ files
, as of the current version, although it will only save in the BIQ format for Civ3 1.22. Compressed BIQ files are also supported, although the editor always saves them uncompressed. All combinations of custom rules/player data/maps are supported, and you can add custom rules or maps where they do not already exist.
It also is possible to extract BIQ files from Conquests SAV files with this editor, although that functionality is very lightly tested, seeing as it isn't the main goal of the editor.
Please do post any bugs you find in this thread, and they will be fixed as time permits.
For those of you who are adventurous and would like to explore the actual (rather that Firaxis-imposed) limits of the Civilization III through the editor, please post your results so that the actual boundary conditions can be added to the editor. Also make note of whether you are using the Windows or Mac version of Conquests - it is possible that the Windows and Mac versions of Civ3 may have different tolerances of BIQs that are outside the limits of the Firaxis editor.
As always, backing up your files before editing them is recommended. There is an optional feature called Auto Archive (Options --> Settings --> Autosave --> Auto Archive) that will automatically create a copy of your previous version on saving a new version so you can go back if need be; it isn't enabled by default because it can create quite a few files if you edit the BIQ frequently. There also is autosave functionality that is enabled by default (and configurable for both frequency and number of backups) that is time-based and will let you recover unsaved changes in the event of a mistake, power outage, computer crash, etc.
Download from the latest version
here
.
Documentation
The latest documentation is currently included with the editor. For questions not covered in the documentation (which is not yet complete), please consult the thread (feel free to ask before reading all 20+ pages).
Map editing documentation is currently in
this post
. Map editing can be turned on in the Settings in versions 0.7x of the editor, and is currently enabled by default. The early 0.7x versions have some problems with the map and lack features, but by version 0.78 the map is considered basically stable so long as you don't try to do anything you can't do in Firaxis's editor. Versions 0.82 and above allow Landmark Terrain editing, to a greater degree than the Firaxis editor allows.
You can view the latest progress (including ideas for future improvements)
here
. This thread is the main place to submit them, but lately I've been trying to add them there so they don't get lost halfway through the thread and I'm more likely to remember them when I'm deciding what to add next.
Old versions
can be downloaded
here
for versions 0.97 and later (except 1.21, which has gone missing). This includes "special" releases such as legacy OS compatibility releases, as indicated in their names.
Links to versions older than 0.97 can be found in the "Old Version Additional Details" below.
If the editor ever becomes unavailable for downloads for any reason (site going down, etc.), feel free to go ahead and re-upload it.
Spoiler Old Version Additional Details :
Change Log: The file listing the changes in every version is available
here
.
Credits
This list may not be complete. Please contact me to have any omissions added.
Contact Info
I don't always see new posts to this thread right away. Contact me via private message or e-mail (via my profile) if you'd like me to see your questions quicker.
Looking for the download at the bottom of the thread?
Here's
another link!
Last edited: