Joined

Sep 19, 2010
Messages

109
So, the basic idea I had was to play a divine intervention game on the Earth18Civs map. This is set to Marathon speed, so many Gods might want to make their mark on history.
There are only
1: Thou shalt not interfere with time, or destiny
(don't change difficulty levels, or gamespeed)
2:Thou shalt control thy powers
(Don't change everything, be subtle, or bold, but don't go overboard)
3:Thou shalt respect the balance of things
(Don't give a large amount of techs, or a nuke in the stone age, or something along those lines.
4:Thou shalt enjoy thyself
(Remember, we are doing this to have fun. Don't feel you have to join in

)
5:Thou shalt respect the mortal
(No intentionally making the game unwinable)
Below, is the pictures of the first first fifty turns, along with a bit of a story.
Montezuma, lord of the Aztecs, had a sudden urge to settle down. He commanded his people to build a city, and gave the place a new name. It was given a name never before used by the Aztecs: Home.
Before too long, Montezum learned he was not alone. There were more people to the north-east.
"Greetings! I am Roosevelt, of the American Empire. I hope that our two great peoples can live together in peace," the man said.
"As do I," Montezuma replied.
"Send a runner!" The leader of the scout force yelled. "Tell Lord Montezuma we are under attack!" As a bear ripped at his arm. Luckily, the injuries were not too severe, and the scouts resumed exploring immediately.
Techs discovered: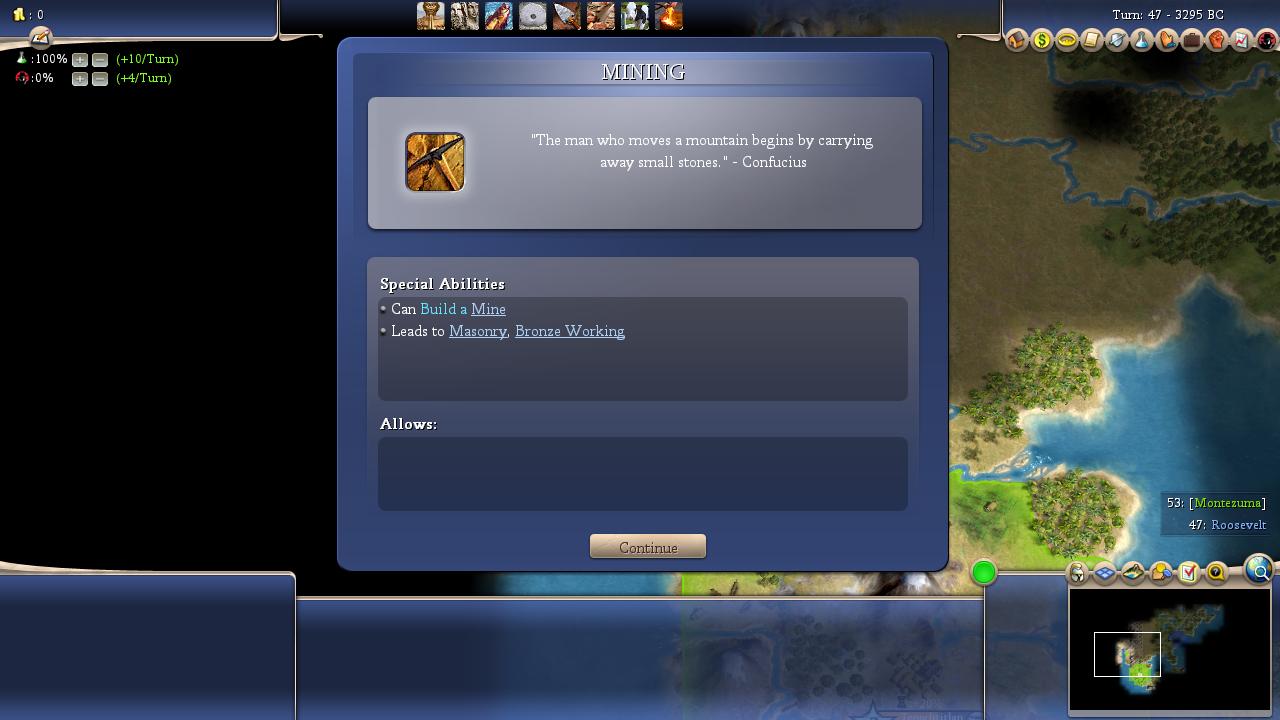 The state of the world as it was known.