25 playable Civs play
The Game of Thrones
:
1) The Wildlings (Mance Rayder)
2) The Night's Watch (Jon Snow)
3) The North (Robb Stark)
4) The Iron Islands (Balon Greyjoy)
5) The Riverlands (Edmure Tully)
6) The Westerlands (Cersei Lannister)
7) The Reach (Margaery Tyrell)
8) Dorne (Oberyn Martell)
9) The Stormlands (Stannis Baratheon)
10) The Crownlands (Joffrey Baratheon)
11) The Vale (Lysa Assyn)
12) Pentos (Illyrio Mopatis)
13) Slaver's Bay (Razdal mo Eraz)
14) The Golden Company (Harry Strickland)
15) The Stormborn (Daenerys Targaryen)
16) The Dothraki (Khal Jhaqo)
17) Lys (Salladhor Saan)
18) Tyrosh (Daario Naharis)
19) Braavos (Tycho Nestoris)
20) Volantis (Talisa Maegyr)
21) Qohor (Vargo Hoat)
22) Myr (Thoros)
23) Lorath (Jaqen H'ghar)
24) Norvos (Mellario)
25) Qarth (Xaro Xhoan Daxos)
I've removed communism and democracy and curtailed the tech tree at the close of the middle ages. Gunpowder has been renamed 'Weaponry'.
'Heavy Infantry' replaces 'Musketman', 'Heavy Cavalry' replaces 'Cavalry'. 'Cannon', 'Privateer' and 'Frigate' are removed for the time being.
Unique units key: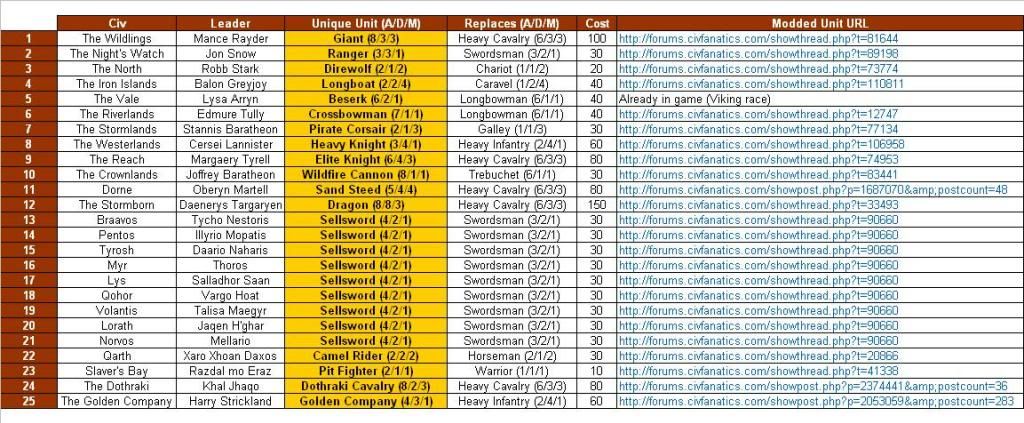 Resources:
- Horses
- Iron
- Gold
- Wheat
- Fish
- Cattle
- Dyes
- Furs
- Gems
- Silk
- Spices
- Wines
Diplomacy with Margaery: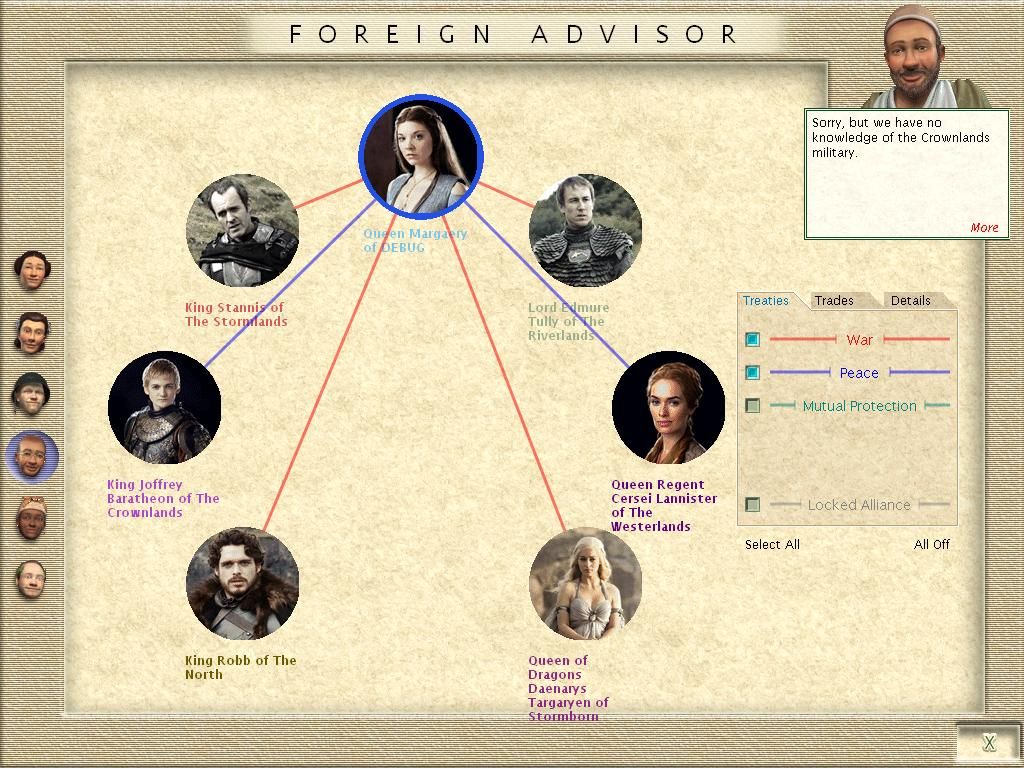 Daenery's dragons bear down on a band of Yunkai sellswords: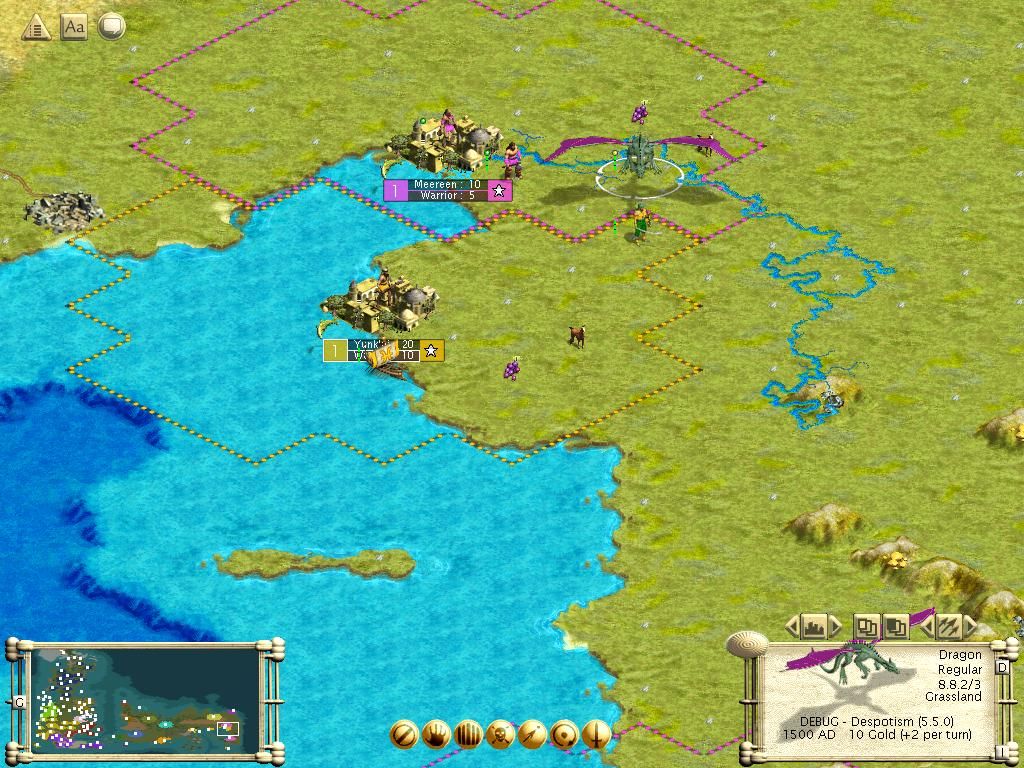 The Ironborn fleet readies itself for war: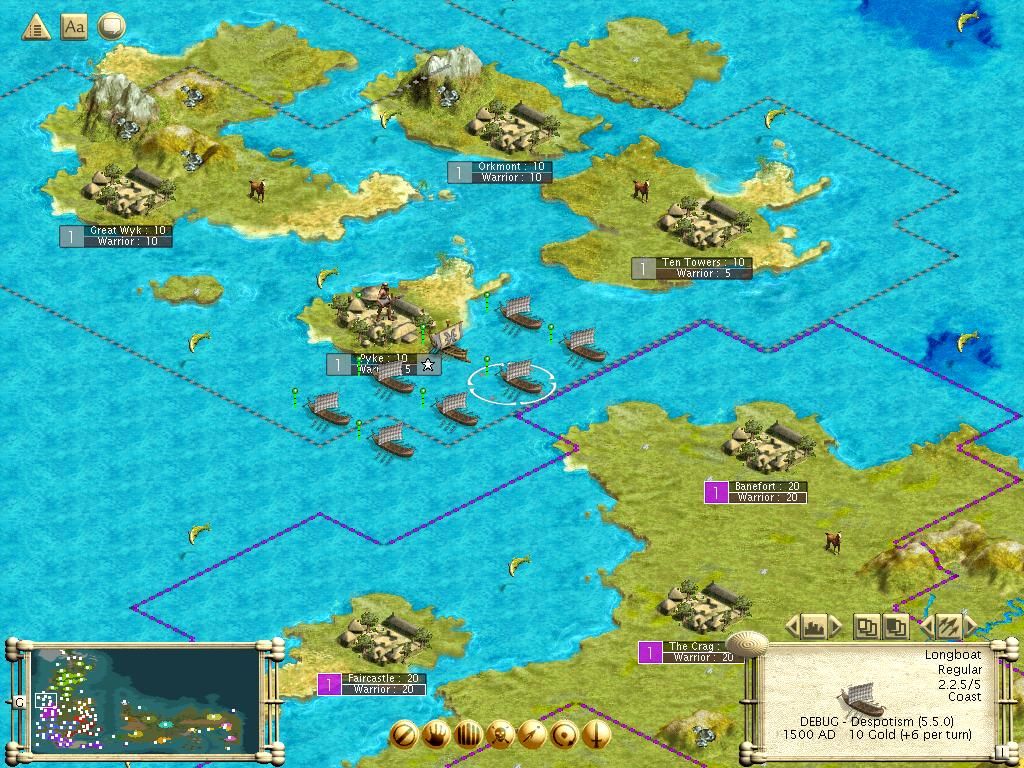 This is a continuation of the excellent initial work on the map done here:
Game of Thrones Scenario Map Thread
Please refer that thread for details of the mod...
The files for V1.5 can be found here:
Game_of_Thrones_Scenario_FM_1_5.rar (Google drive)
Game_of_Thrones_Scenario_FM_1_5.rar (Uploadingit)
Additional yet optional files (OST music, menu screen changes) can be found here:
Game_of_Thrones_Optional_Files_1_2.rar (Google drive)
Game_of_Thrones_Optional_Files_1_2.rar (Uploadingit)
Version history:
V1.0
Original mod.
V1.1
- Removed space race
- Removed debug mode
- Fixed the civilopedia folder name error
- Gave the 'map making' tech to the Stormlands and the Ironborn (so that they can produce ships from the off)
V1.2
- Reset the techs as per V1.1
- Added an additional starting unit to each civ, either a warrior, a galley or a pirate corsair (The Stormlands)
V1.3
- Removed original unique units
V1.4
- Revealed the scenario map to the players
- Removed original wonders (great and small)
V1.5
- Tully leaderhead graphic corrected for the modern age
- Changed city graphics to avoid the emergence of modern-looking cities
- All races are set to either european or middle eastern
- Incorporated
Snoopy's terrain
to beautify the scenario
Thanks to:
Bengal Tiger
for the map.
Yoda Power
for providing advice on the editor.
Kinboat
for the dragon and ranger units.
Embryodead
for the African set, giant and dire wolf units.
CivArmy s. 1994
for the Viking longboat and desert wind units.
Aluminum
for the crossbowman, two-handed swordsman, AoK knight and horned knight units.
aaglo
for the corsair and medieval bombard units.
CamJH
for the Italian foot knight unit.
BeBro
for the knight pack and Warhammer knight units.
ripptide
for the Arab swordsman unit.
Jimmh
for the camel unit.
Thunderfall
for the terrain.
Enjoy!

Future plans for the mod:
- More OST music
- Civlopedia entries for the new Civs and units
- Tech tree cosmetic adjustments for the changes made
- Replacement units and techs for those eliminated from the scenario
- Modified diplomacy by Civ
- Any other adjustments recommended by those who play the mod