Joined

Jul 26, 2007
Messages

2,058
Location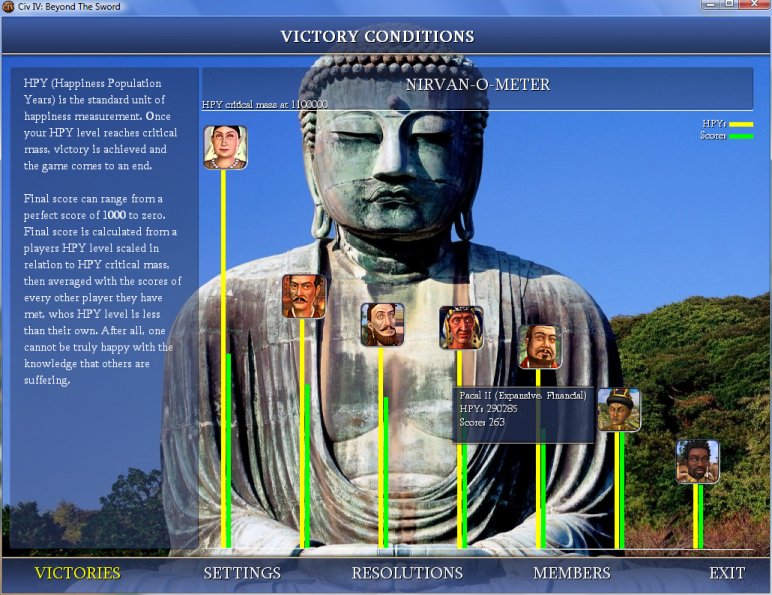 Download here
This mod requires BtS v. 3.19
This mod is basically a subtle twist on the normal BtS game, except the only consideration in terms of victory and scoring are the happiness of the world's people. Your goal is to accumulate happiness over the course of time. You get one point per extra happy face in each city, times the number of people in that city, times the number of years that the turn lasts. Unhappy faces work the opposite way and can actually lower your score. You might think that you can simply annihilate your opponents in a normal conquest game, as the last civ standing would obviously be the happiest, but there is a second component to your score used to measure your 'benevolence' in the world.
Your final end game score is calculated on a scale of 1 to 1000. This represents your raw happiness compared to the happiness level needed for victory, which is determined by a formula relating to the max population of the whole map. To maximize your score in this game however, you can't just look out for yourself. Your final score is also averaged with every other civ that you have met; who's score is less than your own! Therefore, to get a high score, it's not simply winning that is important, it's also how you can coax your less enlightened friends into being as happy as you are. It is entirely acceptable for a person to lose the game and still get a higher score than another person who wins the game. There is no bonus for simply winning.
In 1972 the king of Bhutan, Jigme Singye Wangchuck, was criticized for his country's poor economic growth. He responded that his country preferred to focus on Gross National Happiness rather than Gross National Product. This may sound like a fairly typical political sidestep, but thirty plus years later,
a study on world happiness
came to the conclusion that the little country of Bhutan is indeed one of the happiest places on Earth, in spite of being one of the poorest! It's rather difficult to argue with results, eh?
I thought this was an interesting priority for governance and I wondered how it might apply to Civ. It just seems too obvious to be such a recent invention. With all the different political ideologies that have come and gone over the course of history, did it really take us this long to realize that happiness should be a priority?
In order to make this work I did have to make a few changes to the game, but I wanted it to be fairly close to normal BtS. Another thing I changed unrelated to the happiness game was to increase the fun of the exploration game by make explorers a lot more useful.
I hope you like it!
Here is a list of the major changes:
1.)Goody huts are now important throughout the game, and increase greatly in value as the game progresses. This works well on PerfectWorld or any map that uses a 'new world' that requires ocean going technology to get to many parts of the map. An overlooked goody hut that lasts until the modern era can be quite valuable indeed.
2.)There was a bit of code in the DLL that caused a barbarian unit to lose its 'brain' when it walked on to a goody hut, causing it to 'guard' the hut. Clearly this was to challenge the player in gaining the reward, but the explorer unit can't attack! This barbarian behavior always bothered me as it was the primary reason for the utter uselessness of explorer units. This behavior is now removed and barbs will not stop on goody huts.
3.)According to the study, the main conditions that bring happiness are education, access to healthcare, and economic growth. Therefore, some education and healthcare buildings produce happiness, and sometimes a lot of happiness. See the Civilopedia for more information. Economic growth tends to fluctuate and is hard to control, but this will also influence happiness on a turn by turn basis.
4.)The 'Charismatic' personality trait has been slightly modified, as it was a bit overpowered by its direct happiness bonus. Instead of +1 happy face per city, you get +2 espionage per city. You still get +1 happy for monument and broadcast tower.
5.)Hereditary rule no longer gives +1 happy per military unit, but +2 happy with the castle building. The tech requirement to build castle has been reduced to Mathematics.
6.)The 'Free Market' civic now pays 5% interest on capital. This might be overpowered in normal Civ, but in this game I think it works as money is less directly tied to victory in this mod.
7.)Added a few more happiness resources. The idea that things like gold and silver can make one happy is probably one of the great tragedies of the human condition, but in Civ, gold really does cause happiness! Fine. We'll go with that.
8.)Added a new victory screen to help explain the game mechanics and give a graphical representation of the scoring system.
9.)The score on the main screen indicates happiness accumulation only, so just because someone is at the bottom of the score ranking doesn't mean they can't punt your puny civilization off the face of the earth if they don't like you! To prevent the happiness score from lulling players into a false sense of security, a little red exclamation point (
!
)appears in front of your rivals names when your power falls to 75% of theirs. When you see those you might think of boosting your defense spending.
Source code is attached to this post, all sections of code changed are marked with 'cephalo'.
All credit for the opening music goes to Jigme Drukpa, who is Bhutan's national artist and also a member of parliament there. As far as I could find on the internet, he is the only recorded example of Bhutanese traditional music, so I sure do hope there is no objection to using this copyrighted material.
More of his music can be purchased
here
on eMusic. I bought the whole CD and I find it enjoyable.