Joined

Jun 14, 2003
Messages

5,698
Location
June 20,2017

New set loaded with minor additions and tweaks.
Download

January 1, 2009
Here is an new set.
Download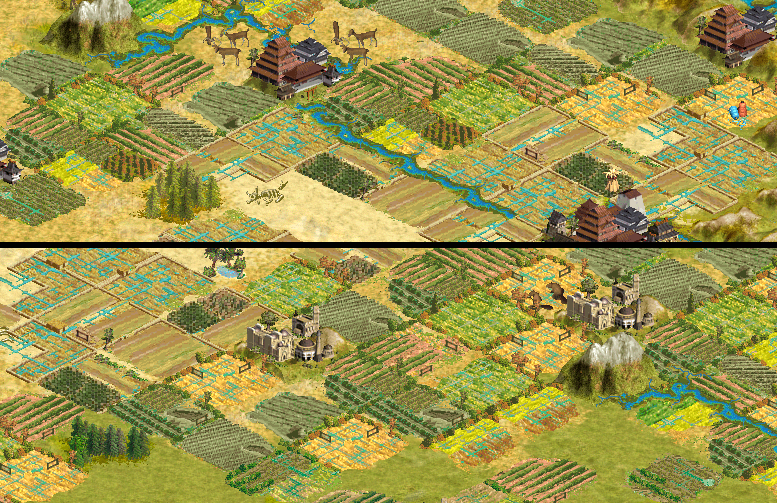 ================================================================================================
Edit: November 15, 2007
Here is the latest irrigation that I'm using. Made changes to the Grassland and Plains files, added ponds and new types of irrigation, cleaned up the borders so the roads and rails overlay better.
download of post #81
New August 12, 2007

: I meant to do this a while ago, these are the grassland irrigation without buildings.

I personally prefer them this way because the roads go over top of the irrigation and thus it is better to have the buildings on the roads.

You can get these on post #78.
New March 12, 2007

: Fitted Terrain incorporating Ronnings irrigation, adding the look of newly ploughed/plowed fields.
Here is the file
download
There is an alternate version of the desert irrigation on post #72 with the newly ploughed/plowed motif.
Unzip and goes in:
C:\Program Files\Infogrames Interactive\Civilization III\Art\Terrain
Don't forget to backup your originals.
preview and download on post #64
Original post #1 and index of other fitted irrigation starts here.
New November 21, 2006

: Fitted Terrain with service corridors, also includes a new roads file that is lighter wheel tracks only.
,
preview and download on post #61
New August 1, 2005

: Darker Version for Darker Terrain sets now available
,
preview and download on post #41
Edit May 5/05: Posted preview and download of Version 2 Fitted Irrigation on Post #36
preview and download
I have for the longest while been using Zeb's Irrigation because they were the only ones besides Firaxis' that actually followed the structure Firaxis set down.
Coastal boundries have been ignored for example. Each tile is supposed to be a certain shape to properly connect to adjacent tiles. Most of the mod's are all square and the irrigation juts out into the lake or ocean.
Irrigated pennisulas that are single tile will no longer be square. Edges, coastal areas and irrigated boundaries will not be square any more.
For the most part I think that the irrigation fits better. Each tile will proper connect to adjacent irrigation tiles and no more corners of irrigation tiles jutting out into the water.
As you can see I have borrowed from people like Niessuh and Mrtn. I hope they don't mind.
The are 3 files for: grassland, plains and desert. I figure that I will probably use Mrtn's Darker Desert Irrigation for the Tundra because I haven't figured out what to do with it yet and Tundra irrigation I think has to be modded to be enabled anyway (IIRC).
Edit Jan 15, 2005: Hikaro Takayama has posted a Tundra Irrigation on post #32 to go with this set.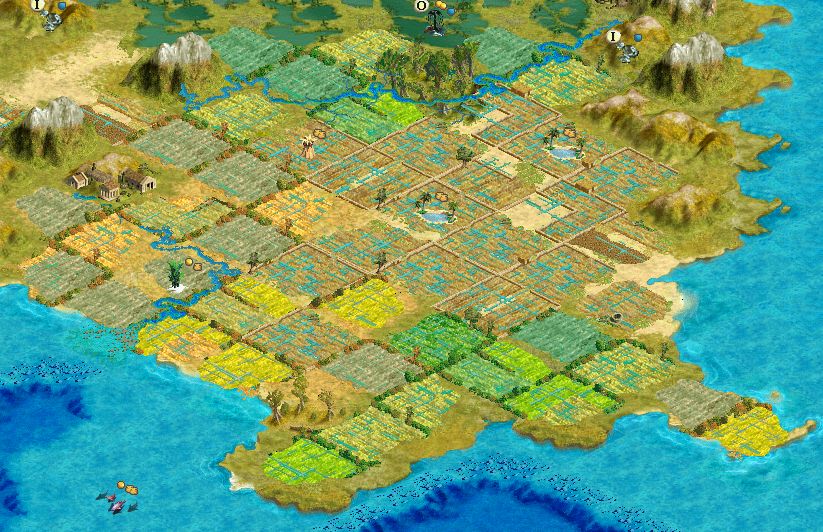 Last edited: