Joined

Jul 26, 2007
Messages

2,058
Location
Finally after months of excruciating experimentation I bring you PerfectWorld3 for Civ5!
This map script uses various manipulations of Perlin noise to create landforms, and generates climate based on a simplified model of geostrophic and monsoon wind patterns. Rivers are generated along accurate drainage paths governed by the elevation map used to create the landforms.
To use this map script, download from the mod browser in game and enable it as a mod, and then select 'mods' -> 'single player' -> 'setup game'. It's just like starting a normal game, but from inside the 'mods' menu. From there, you should see the PerfectWorld 3 map script in the list with your other maps.

Alternatively, if the mod browser is not working for you, you can download the civ5mod file from the civfanatics database here.
1) Download the file "perfectworld_3_v_1.civ5mod" from CFC's databas, save anywhere on your harddisk.
2) Open that file using WinRar/7-zip, then extract both files you see ("PerfectWorld3(v1).modinfo" and "Perfectworld.lua")
3) Copy both files to the folder "X:\Users\YourName\Documents\My Games\Sid Meier's Civilization 5\MODS" -- basically the place where all your other mods and mapscripts are located.
4) Activate the mod/mapscript ingame.

Sirian did a very good job making Firaxis' placement system for resources and starting positions, so for now I am using his default code. That comes with an option to increase the resource level like in the map scripts that come with the game.
I also have an option for all players to start on the largest continent like they do in Terra. It's not as robust as in previous versions of PW and the 'new world' is not guaranteed, but since that functionality also comes with Sirian's code, it was very tempting to just use it as is. The default setting starts players all over the world.
There are many other opportunities to tune the map with variables at the beginning of the actual lua script file in your users mods directory. Those familiar with prevoius versions of PW will know what I mean. You can change things like land mass percent, mountain percent, desert percent, etc. There are comments in the code explaining what each does.
Unfortunately, multiplayer is not supported at this time. I need to do some fancy things with the random number generation, and the Map.Rand() function doesn't quite do what I need to do. Once the proper SDK is released I can research what my options are for getting maximum resolution of the random sequence. Until then, my random number generation will break multiplayer.
Here are some screenshots...
This shot demonstrates how I mix the continent styles up a bit in certain situations. The Europe art set is the only one that is acceptable for jungle, but the Africa art set looks good on large Sahara like deserts, as does the America art set. This shot also gives a good example of the river drainage network.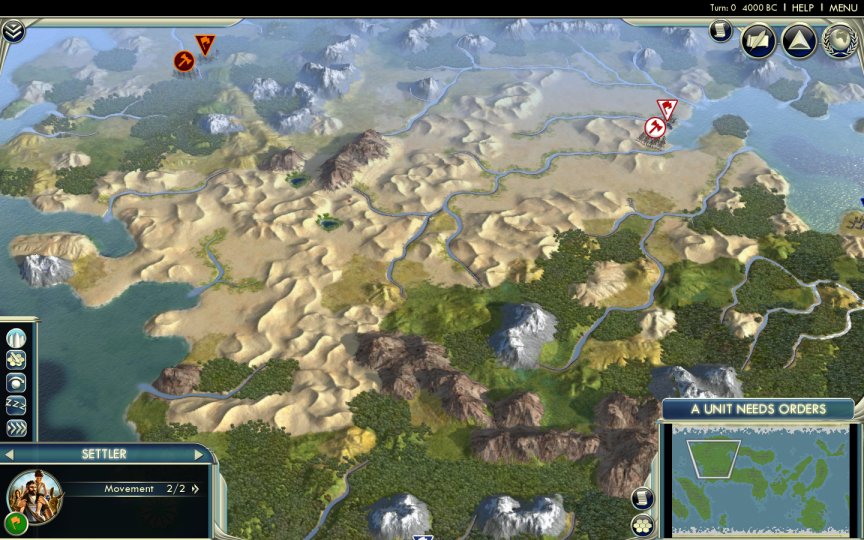 This shot gives an example of how the climate model can create rain shadows. Here we have a strong equatorial wind coming from the east creating jungles and marsh on the east side of these islands, while the west side is desert in those places that are behind higher altitude areas. Altitude is a little bit harder to see in this version of PW than in previous versions, because I don't have pine trees to create that strong visual cue, so sometimes the rain shadows look a bit out of place. You have to use your imagination a bit and pretend there's a good reason why desert is next to jungle sometimes...

I hope you all enjoy the map! Have fun!
Known Issues:
There is an occasional crash bug in my routine that fills in basins so that rivers flow to the coast. If the basins are not filled completely, I force the map to crash so you don't end up playing on a goofy map. If you lose the game on turn zero, that's because the map crashed. It will require a dedicated effort in the future to find where my lake siltifier is failing, because it only happens very rarely for me. It will happen all the time for you, because the law of randomness states that only things you don't want to happen will happen. Since I want to see the crash so I can fix it, it will elude me. For you, it will crash half the time.

Version History ------------------
4- A working version of version 3
3- Added Atolls. Took Sirian's advice and shrank the 'huge' size.
2 - Shrank the map sizes except for huge. Added a better way to adjust river lengths. Used the continent art styles in a more diverse way. Cleaned up the mountain ranges a bit.
1 - initial release! 11/24/2010