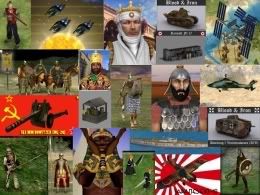 Tons and tons and tons of great downloads for Civ4 in this update, more than I can possibly mention.

Please take the time to visit the threads and continue encouraging our great modders.
UNITS
GRAPHICS MODPACKS
CUSTOM CIV
– BtS
CUSTOM CIVS
– BtS modular
MODPACKS
– BtS
SCENARIOS
- BtS
MAPSCRIPTS
MAP
MODCOMPS
– BtS 3.13
UTILITIES
OTHER
Thanks to all of the modders and please continue to announce your new and updated files.
Note: If you would like your new or updated Civ4 file(s) included in this weekly announcement, please
visit this thread
for details.
>>
Civilization IV Downloads
>>
Civ4 - Creation & Customization Forums