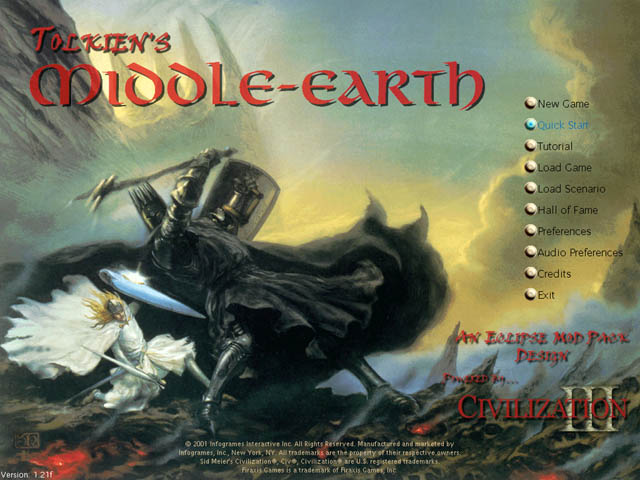 Latest Version Date: 05/08/02
Current Full Version: v0.2 Beta
Current Patch Version: N/A
Ok, after countless hours of work, here it is!
Please remember, this the first beta release and the product is NOT complete! There is much work to do still and the primary reason for releasing it now, in its present state, is to test the unit animations, determine which direction to take for sound creation, and to fine-tune balance (which is NON-EXISTENT currently!)
Some key items to note...
•The Governments are "roughed in" and will absolutely change so don't get too hung up on there current state of disrepair.
•The tech tree, wonders, resources, and quite likely improvement will be changing also prior to final release.
•Again, the main focus of the beta is to test unit animations, other game graphics, and to get some constructive feedback from the playtesters.
•I've yet to complete the credits page but until I do, I'd like to give a big thanks to all those on this board who have created some of the fantastic unit animations I've included! Good job all!
Feel free to email me directly at
eclipse1024@hotmail.com
if you have any input you'd like to remain anonymous.
Thanks,
Eclipse
Edit:
Originally posted by yelt62@shaw.ca Hope it is not just me, but, in two games playing this mod now I have received the error "Eras_Splash_Second Age...... " this game will exit immediately. A little frustrating as in my last game I was in the middle of a major takeover. I restarted to the last auto, same thing, and then 2 auto's back, same thing. Has this been reported before?

Rb
Ah yes, another change to PTW that I didnt remember. This is a pediaicons.txt file error. Just open the file in the "ME" folder and add the following to the end of it:
Code:
#ERA_SPLASH_ERAS_Ancient_Times
art\erasplash\ancient.pcx
art\erasplash\medival.pcx
#ERA_SPLASH_ERAS_Middle_Ages
art\erasplash\medival.pcx
art\erasplash\indust.pcx
#ERA_SPLASH_ERAS_Industrial_Age
art\erasplash\indust.pcx
art\erasplash\modern.pcx
#ERA_SPLASH_ERAS_Modern_Era
art\erasplash\modern.pcx
art\erasplash\modern.pcx
- GIDustin