Joined

Feb 19, 2006
Messages

6,899
Location
All Leaders Challenge Game #25, Take 2:
Celts/Boudica
​

​
Pre-Game Thread
Starting Position (this post, below)
Round 1: 4000 BC to 2850 BC (46 turns)
Round 2: 2850 BC to 2125 BC (29 turns)
Round 3: 2125 BC to 1525 BC (24 turns)
Round 4: 1525 BC to 825 BC (28 turns)
The idea of the All Leaders Challenge is that I'm going to play a game with each of the Civ IV leaders. With the help of all the posters who participate, I will attempt to make the most of the leader's unique characteristics: traits, starting techs, unit, and building. Aside from the leader, the other game settings are (mostly) kept constant for the sake of comparison. I will post the saved game files, screenshots, and status reports here as the game progresses. Everyone then has a chance to chime in with their strategy ideas, or voice their frustration (or glee) when I make a mistake.

Everyone is invited to offer opinions and advice, and to make your own attempt at playing the same game.
But if you do play a "shadow game", I kindly request that you refrain from posting spoilers--i.e. any facts or even hints about the map, opponents, and so on--before I'm there myself.
I'm trying to play the game as authentically as possible.
In this ALC game, I'll be playing as
Boudica
, leader of the Celts. I'm playing the game using the
Beyond the Sword
expansion pack, its latest patch (3.17), along with
Solver's unofficial patch
and
Dresden`s unofficial update to the unofficial patch
as well. The difficulty level is
Immortal
and the speed is
Epic
.
This is my second whack at a Boudica game. The previous one got interrupted by real life for a couple of months, and I just didn't feel like going back to it. So I decided to generate a new map and start fresh.
Here are some details about the map and other settings:
Same as last time. And just like last time, I added two civs, bringing the total number up to nine (including me) from the standard seven.
I haven't had anyone screen the map for me this time, so I'll just play the hand that's been dealt to me.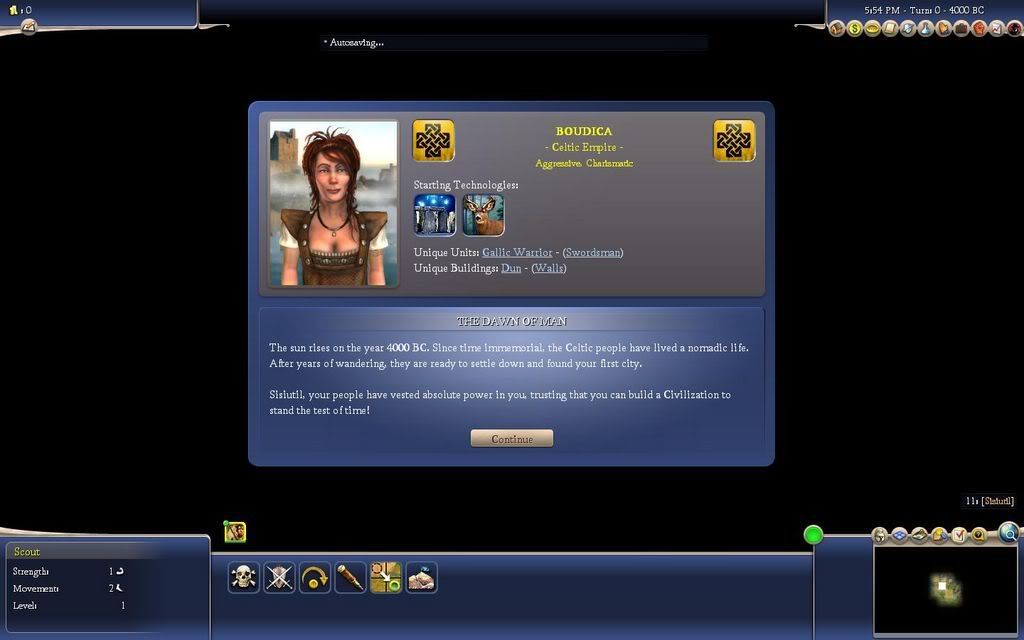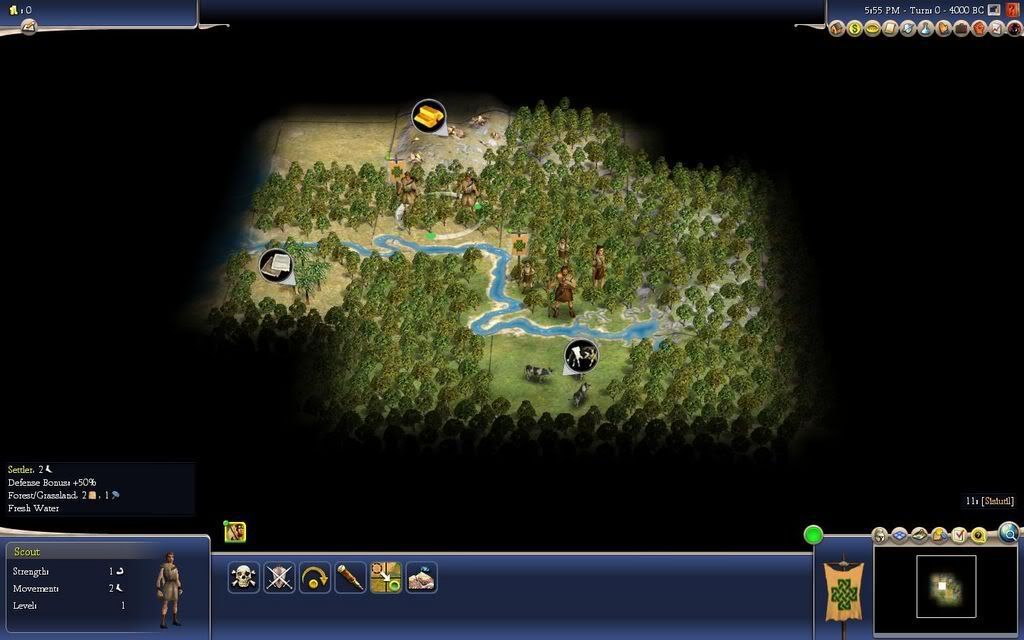 Not a bad start, all told, what with the gold and a calendar resource, lots of forests for chopping, and plenty of river tiles. Food-wise it's a little weak, unless there's something in the fog to the east--I'll keep my fingers crossed. If the cows turn out to be the only food, I may have to move the capital to a better location later on.
That being said, I can't see many alternatives to settling in place. There's coast to the west, but it would take the Settler several turns to move there and I don't start with fishing even if there is a seafood resource over there. (Moving only 1 tile west leaves me 1 tile from the coast, and we all know what a

move that is.) Still, do you think it's worthwhile having the Scout check out that area first, or should he head inland? The problem there is he only gets one move in that direction, and then I have to decide whether to move the Settler or settle in place.
Does Worker first make sense? It could mean that I have a Worker right around the time the capital's borders expand to include the gold, and once I've finished Mining, which I think makes sense as the first research target.
The initial saved game file is below.