Joined

Nov 27, 2002
Messages

6,638
Location
Updates so far…
2000-1750 BC
1750-1500 BC
1500-1350 BC
1350-1200 BC
1200-450 BC (1st boring time)
450-350 BC
350-300 BC
Current Civ
Stats
The game
Explanation of concept behind this can be found in
this thread
Basically, it is a low-budget NES attempt played using civ3 itself. The AI controls all the nations (except my 'observer' cheating debug civ). I will use save editors to mod the game, implementing orders and random events etc.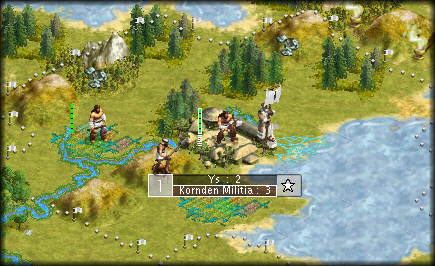 Notes:
This game will use a special scenario with custom rules, and with the custom civs, UU's, buildings etc that people posted in the original thread. I may switch to a new scenario later on, which will be a chance to add new custom things and edit the game in any way. For now I will use only save editing, which does not allow new rules to be used.
Settlers:
Settlers cannot be built by the AI in this scenario, to prevent the early and unrealistic flooding of the world with cities. Instead they are produced by special small wonders. Civs will gain or lose these small wonders depending on what I think is appropriate – a large empire may begin to lose its ability to colonise, for example. All player civs an have equal rate of settlers at the start, and NPC's have fewer or none. I can also edit settler units manually into the game.
Spending points:
Each player has spending points, which can buy certain in-game effects for their civ (using save game edit and debug mode).
Spending points accumulate at a slow rate. Usually one for every update, perhaps more for special achievements.
Exactly what you spend these on is up to you, but these are some ideas:
* Military – get a bunch of advanced, elite units, get barracks/walls etc, force a state of war against another civ, get extra units to launch a special attack against another civ
* Trade – increase treasury, receive trade buildings, force favourable trade negotiations with other civs for special luxuries/resources etc.
* Science - receive science buildings, receive free techs
* Political – create rebellions in other civs (changing city ownerships), protect your own cities from similar rebellions
* Colonise – get free settlers and cities
* Explore – reveal more of the world, make contact with new civs,
* Something else - the save editing allows a lot of possibilities, but is quite limited in some areas.
Diplomacy:
Anything agreed between two players (or with me as an NPC) can be done without spending points. Pretty much anything can be done here, changing city ownerships, changing techs, giving money, as well as creating any normal in-game civ3 diplomacy deals, including starting and ending wars.
Updates:
No set schedule at this point, I'll play for a bit and then wait a day or so for any 'orders'. I don't expect everyone to send orders each time (in fact I expect some will never send orders

) but the AI will keep chugging along.
The World:
It's a heavily edited random map. Basically, much like earth, in that there is one 'asia' and one 'africa' and one 'mediterranean', but otherwise very different geography.
Civs:
NPC Civs are available to play at any time, if anyone wants to join. 'Hidden' civs could also be played.
There are 29 'proper' civs in the game. 1 is for my neutral civ, and 1 is for rebels and barbarians. Some civs are hidden at the north pole until they come into play.